Dog training success stories.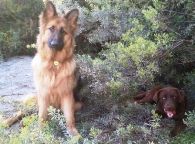 2 Dogs barking, jumping, mouthing, destroying and play fighting all the time:It was amazing how quickly Jack (German shepherd) stopped barking. I got up twice in the night to stop him and then heard a dog barking but it was the dog next door. Jack did not even get involved in barking back. It was lovely to walk out the door this morning and not get jumped on. It was amazing seeing our Lab who jumps remain down and just walk alongside us.Sam was kind to both dogs. There is no harsh treatment to get the two dogs to behave. Sam was easy to talk to. He explained things properly and restated them if necessary. It is like we have 2 new dogs.                                                                                                                                                                                                    Hi Sam,I just wanted to update you on Jack and Charlie (GSD and choc Lab). We had Christmas at our house and we were all able to eat outside and sit out there. The kids played and the dogs were extremely well behaved. There was no barking at the visitors whatsoever, both just calmly backed away from the door and let people out. Charlie got a bit excited but quickly settled and went and lay down under her tree. Your training has helped our dogs a lot. Both are also coming inside and just laying down quietly and sleeping while we watch tv. They do not enter the kitchen or go on the carpet. Thanks Kylie and Paul B. Morphettvale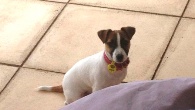 Over excited puppy: Sam was absolutely fantastic, Could not believe how quickly we got the results we were after in just one session! Stella is a new dog!!! and our household is alot happier. Sam picked up on what Stella's issues were very quickly. It was all very easy to understand and implement. We really appreciated you coming out and I have already started and will continue to spread the word about Sherlock Bones and the training methods. Frank and Amy D. Barossa Valley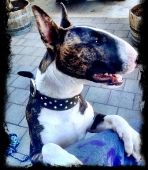 Too rough with partner and Daughter: My 8 month old pup is fantastic while I was around but would not listen to my partner when I was not around, he was just too boisterous jumping on her, the couch, mouthing very roughly and just would not listen to her. This was causing me a lot of stress whenever I would leave the house. With just one session with Sam he is 200% better. We are both amazed at how well he responded to the training and it was so simple. It is a great relief to know that should my partner have any problems in the future when I am not home she can call on Sherlock Bones for extra help. Craig M. Seaford Meadows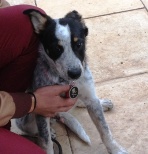 Rescue dog too nervous for food or toy rewards: Thanks a lot for the training session the previous Friday. Dave and I found it extremely helpful; we have referred you to many of our friends already. We were able to get him to socialize with my parent's dogs using a gentle approach. We noticed his behaviour changes by the end of the lesson with the techniques implemented, especially when our implementation was corrected by Sam. We are so pleased with the techniques also we were given so much useful additional information. Being able to complete our training verbally and practically it was very enjoyable and kept it interesting. It was an overall excellent experience and has provided invaluable knowledge for the training of our rescue dog.Alex D. Brighton
 Barking and scaring guests: Dear Sam, just a short note to say Daisy is a changed dog.  She is so relaxed after being reassured that her job isn't to save the farm from everyone who visits.  We are all continuing with the exercises you gave us and can't believe the difference it has made. Thank you so much for your help. Vanessa S. Kuipto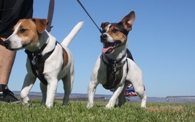 "After my session with Sherlock Bones I feel completely confident directing my dogs the correct way, I can see the difference right away with things like anxiety, demand for attention and becoming frantic when guests arrive at the house, and our guests notice a difference too! I was able to pass all the information and techniques onto my wife who wasn't at the session and she also now handles the dogs as if she was at the session. It's not confusing or hard, it just makes a lot of good sense and once you apply what you learn in a session, you and your dog/s will be able to enjoy each others company with no stress! Very pleased with Sherlock Bones and very proud of my boys!!"And thanks again, we really appreciate it. Cheers, Brad G. Seaford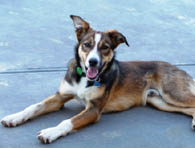 Chino is loving his new training. People popped in yesterday and he was much better and behaved in a way that made us so proud of him! Chino responded well and we saw results in the first lesson. We are happy with the simple and effective dog training techniques used by Sherlock Bones and we also found the whole training experience relaxed and interesting.Bells Landscaping and Paving. Sandy Creek.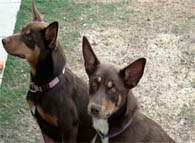 The Life time guarantee is really good, the fact that your willing to back your own word up shows how confident you are which makes us feel confident as well which is great. We found Sam very professional in all areas in his field and we felt comfortable with him in our house. Love your work Sam! Cheers.Luke and Nicole W. Glanville.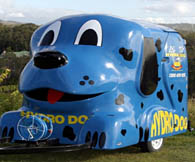 With great thanks and appreciation to Sherlock Bones from the team at HydroDog South Australia. Our franchisees deal with dogs on a daily basis and Sam came to one of our meeting to give a lecture on dog safety. We believe in on going support with our franchise and if each of the operators learnt at least one thing from the lecture, then it was well worth it. I personally have worked with dogs for 6 years now. I know that I have become quite complacent in dealing with dogs and Sam's lecture certainly taught me a thing or two. Keep up the great work Sam and we look forward to our future dealings with Sherlock Bones. As our business grows we will get you out again to teach our new comers as to what to watch out for and give our current people a reminder as to how dangerous dogs can be. Thanks againCol Burrow – HydroDog State Manager – South Australia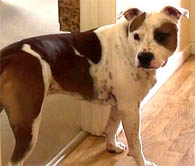 We had a long list of problems with Cain , basically he was uncontrollable. We went to Puppy pre-school and he was just out of control right from getting him out of the car to trying to socialise him with the other dogs. The one on one dog training with Sherlock Bones has been the only thing able to help him. After the first session he started to come when called and we were able to start addressing the problems we were having with him.Jason and Troy B. Munno Para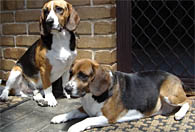 To achieve results so quickly gives the encouragement to continue and purse. I had basic knowledge of what to do but wasn't putting it together properly. The personal dog training I received made all the difference. I was very surprised with the quick results just sorry I didn't start much earlier. Nothing shown to me is remotely harmful to my dogs. Yes when you see results during the first session you can't help but enjoy it.Sandra F. Morphett Vale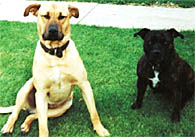 Trying to take 2 dogs to dog obedience training was a joke, I and the dogs just didn't enjoy it nor did it help with the fighting and escaping problems I was having. I rang other trainers of which some said the best thing to do would be re-home one of the dogs. The thought of giving up one of my dogs just broke my heart. I had searched on the internet and read books on how to try and fix the problems to no avail. The advice you gave just made so much sense and the proof is the dogs are now better behaved. Thankyou dog whisperer. You should write your own book! Rebecca S. Happy Valley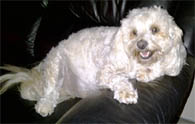 Sherlock Bones has been brilliant and gone above and beyond to help Beau who had severe separation anxiety. Beau would have had to go to a shelter if not for Sherlock Bones. They were very straight forward about the techniques and Beaus issues which was great. Within the first lesson Beau was already not stressing out when I left the room. Sam the dog trainer from Sherlock Bones was very encouraging and involved both my housemate and myself which was GREAT!Lauren MC. Torrensville.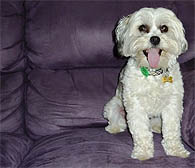 We all found the training very enjoyable. Sherlock Bones went through everything thoroughly and taught us how to train Joey with methods that we were comfortable with.Tina C. Newport.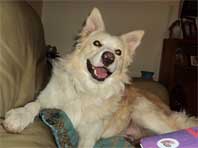 Hi Sherlock Bones.  "For over 2 years I've been trying to get my dog "Leo" to walk alongside me and not to pull me along. I heard about Sherlockbones from a family member and decided to give them a try. In less than 30 minutes Leo was walking alongside me. We now can have a relaxing walk together. I couldn't be happier with Sams work!" Kind Regards, L  Wakefield.  O'Sullivan Beach.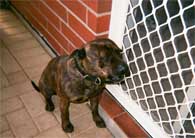 Here is a photo of Spud the Staffy. Today he was just as well behaved as yesterday. He stayed in most of last evening and was delighted.!! I have people coming over today so we will see how he copes with that! Cheers Rachel S. Murray Bridge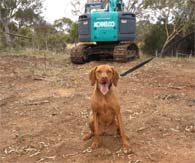 Our dog was crazy! We went to another trainer who used food and more food and our dog just got worse and worse the jumping and mouthing was extreme no one wanted to go out the back. We were at the point where we were going to give her away. Sherlock Bones came around and used no food and what a difference. Then as she grew the crazy started to come back again and true to their word Sherlock Bones came back again free of charge and showed us different techniques to regain control again. We are very happy we went with  Sherlock Bones. Jason D. Mount Barker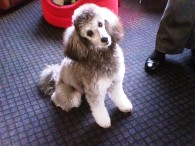 My dog usually barks at any one coming into the house, but Lilli accepted Sam like family, which really surprised me. I would recommend Sherlock Bones home dog training to any friends or family.Sybil T Somerton Park